Boat Works
At Ash Marine we have a very experienced team of boat workers who undertake a large variety of repairs.
We have repaired many insurance damaged vessels using only the best quality materials available.
Recent projects included a 6.5M Pilothouse which broke free from its mooring and washed up on the Rocks.
The process was to recover the boat, returned to Ash Marine. We removed the boat from trailer in our work shop, where the damaged was ground back to original fiberglass.
Layers of Lloyds approved resins and fiberglass was applied, rubbed back for the final layer of Gelcoat to be applied. The Rubbing strake was removed and replaced.
Our Rib tube specialist are here to advise, and repair damaged Hypalon Ribs.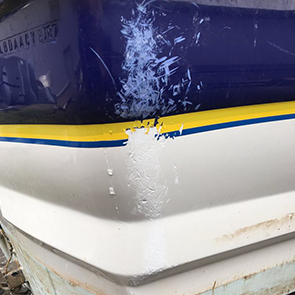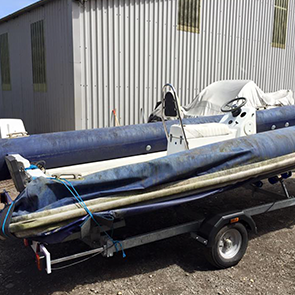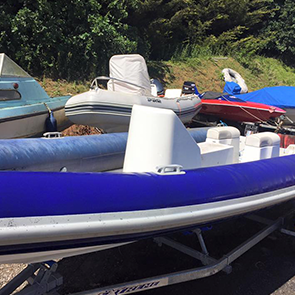 Antifouling
All Antifouling is undertaken in our large heated workshop allowing application throughout the winter.
We can antifoul from new, which require removing the boat from the trailer, tape the pre-assessed water line. We then key the gelcoat, apply Hemple below the water line primer and leave for 24hr cure. we apply the first coat of Antifouling, once the top coat has cured the second coat is applied.
Ash Marine's re-antifoul service also can include a hull scrape. This will remove old barnacle and mussels alike then a Coat of Hemple antifouling is applied.
Detailing
With our brokerage service we have gained huge experience and knowledge of the most effect cleaning materials on the market. This means the best results.
Ash Marine offer a cutting and polishing service that will return your boat to a nearly new shine. A layer of hard wax is then applied to protect the Gelcote for the future.
The interior detailing requires our wet and dry vacuum to remove as much moisture from the upholstery and carpets preventing the future growth of mould and mildew. Our cleaning products are very effective and will result in a clean smelling fresh looking interior boat.
Need a quote?
Complete the form for a free Antifouling or Detailing quote.
Describe your boat to us, including as many of the following details as possible:
Make & year of boat
Make & year of engine
Hours of engine if known
Extras included with boat
General condition
Let us know what you're after
Contact us today!
Complete the contact form or click the logo above for our contact information & directions.